Given enough time and resources, adversaries will eventually find ways to breach your defenses. That is why you need a detection and response solution that stops them in their tracks.
EDR Endpoint solutions typically gather and enrich endpoint data to detect suspicious activities, alerting security teams of possible threats. Furthermore, Mitre ATT&CK threat intelligence helps provide context to investigations.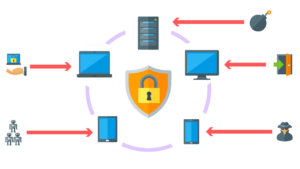 Real-time Threat Detection
Endpoint Detection & Response (EDR) uses real-time visibility across all your endpoints to detect and respond to threats early in an attack's trajectory. EDR's telemetry capabilities track hundreds of relevant reconnaissance and compromise activities such as hard drive access, suspicious processes, memory and registry changes, driver uploads, network connection requests, or unusual internet connections in real-time to help pinpoint their sources and provide early warning.
Antivirus tools rely on signature-based analysis; EDR security solutions utilize behavioral approaches to identify attack indicators (IOAs). Threat intelligence adds context and more complex details about ongoing attacks; swift and accurate responses can stop an attack before it leads to a data breach and allow business as usual to resume.
At the same time, however, even with the best cybersecurity controls in place, determined adversaries can still breach your network and remain undetected for extended periods. Therefore, EDR technology must be capable of quickly fielding alerts and conducting rapid and precise analysis to uncover malicious activity across your endpoints – something cloud-native EDR excels at by not impacting endpoint performance while enabling real-time search, analysis, and investigation capabilities.
Forensics
EDR allows security teams to investigate and remediate threats when they arise quickly and efficiently, speeding response times by automatically performing certain incident response tasks like eradicating malware or quarantining an endpoint infected with ransomware.
Logging and analyzing suspicious activity across every endpoint allows security teams to quickly and accurately determine what occurred, who was targeted, whether or not their attack succeeded, and any damage done by an attacker.
EDR uses data compiled from multiple sources – including internal telemetry and threat intelligence services – to detect advanced attacks that bypass traditional protection systems. By collating this data, security professionals can recognize attack patterns unique to particular attackers, thus shortening attribution times.
Security teams using a unified management console gain full visibility into every endpoint and security issue across their enterprise — providing them with real-time insight to investigate, respond to threats, or remediate vulnerabilities on any endpoint at any given moment. Some solutions provide automated detection and response capabilities through managed detection and response (MDR) partners for 24×7 monitoring, triage, investigation, and threat-hunting services. They use this approach to quickly detect and eliminate threats before they can cause any security breaches. EDR solutions may combine their data in real-time with threat intelligence services that provide up-to-date intelligence on newly emerging threats – their tactics, impact, and any IT infrastructure or endpoint vulnerabilities they exploit – for maximum speed and accuracy.
Incident Response
EDR differs from antivirus or antimalware solutions in that it utilizes multiple tools to identify unknown threats and remove known viruses and basic forms of malware. In contrast, antivirus or antimalware uses a single program to scan, detect, and eliminate known viruses and basic types of malware. EDR monitors endpoint devices like workstations, laptops, servers, cloud systems, or mobile or IoT devices for any unusual behavior, alerting security teams of potential incidents.
EDR connects real-time data from EDR with threat intelligence services that deliver up-to-date information on cyberattack tactics, the endpoint or IT infrastructure vulnerabilities attackers exploit to gain entry to your network, and any related incidents quickly and accurately, giving your team all of the visibility required for rapid assessment, as well as immediate actions like quarantining files containing malware or recovering compromised files, for instance.
Next-generation endpoint protection (EPP) and endpoint detection and response (EDR) solutions enable your security team to investigate and respond quickly to attacks by providing full visibility into all events across your enterprise from a central management console. They can then implement playbooks involving hundreds of other security and IT tools to address threats while mitigating damage quickly.
Forensic capabilities allow your team to set timelines, track attack vectors and evasion techniques, perform live system memory analysis to assist post-breach investigations, collect artifacts related to damaged files to gain more insight into an attack, and decrypt any files ransomware may have encrypted.
Compliance
Remember that EDR is just one security element; it should not replace other tools such as asset, vulnerability, and policy compliance management systems. The best EDR solutions offer APIs or integrations with other solutions for the comprehensive protection of devices and data.
Advanced EDR systems use machine learning to identify abnormal behavior within an organization. Some also integrate threat intelligence services for context by showing examples of cyberattacks to enable teams to detect better and interpret threat detection results.
Once an EDR software detects a malicious attack, it immediately acts to contain it and stop its spread across the network. Some solutions use network containment techniques, while other tools use advanced malware removal tools to delete infected files and block access to websites associated with an attack.
An effective solution also reduces "dwell" time by continually monitoring and analyzing threats after their initial detection, providing multiple response options and allowing analysts to select the one most suited for each threat reviewed by analysts. Xcitium EDR automates follow-up actions for analysts, dramatically shortening response times while eliminating manual steps – mitigating risk, and preventing security breaches by automating follow-up actions for analysts.