With remote work and Bring Your Own Device (BYOD) policies expanding the enterprise network perimeter, endpoint security has never been more critical. Malicious actors use sophisticated techniques to penetrate endpoints and gain access to sensitive corporate data.
Checkpoint's endpoint security solutions offer easy management and deployment for maximum protection from these threats.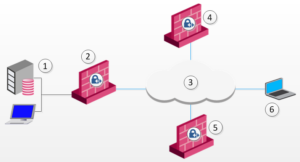 Detection
As cyberattacks become more sophisticated, IT security teams require assistance detecting and responding to potential threats. An EDR solution assists IT teams by recording and analyzing endpoint activity to detect malicious activity and stop breaches before they cause damage. Furthermore, an EDR allows teams to search quickly using automated analysis for threat hunting, suspicious activity validation and more – helping teams quickly search, investigate and respond quickly in the case of breached networks or breaches that cause breaches that lead to security breaches.
Check Point Endpoint Security Harmony is a comprehensive protection solution designed to assist organizations in safeguarding their remote workforces and preventing cyber-attacks from disrupting business continuity. It features antimalware/antivirus, advanced threat prevention, full disk encryption, remote access VPN access, and its intuitive unified management platform provides one centralized point of control over users, computers and security policies.
Studies conducted by Ponemon Institute revealed that 70% of successful cyberattacks originate at an endpoint*. With BYOD and remote work increasing rapidly, protecting a remote workforce has never been harder.
To protect remote workers effectively, they must use an endpoint protection solution capable of detecting phishing attacks, ransomware attacks, drive-by malware attacks, and other forms of cybercrime. A comprehensive EDR solution should automatically detect and stop attacks with minimal performance impact; additionally, they can identify vulnerabilities quickly so they can be patched without negatively affecting business operations – Check Point Harmony endpoint security solution offers these features and is an excellent option.
Prevention
Every device employees use to connect to business systems and resources represents an opportunity for cyber criminals to exploit and steal sensitive data, making it crucial to implement tools and solutions that protect the cybersecurity front line.
Check Point Harmony endpoint protection suite can protect against threats like ransomware, phishing attacks, drive-by malware and more before they reach an endpoint and steal data, such as ransomware. In addition to secure remote access through a virtual private network (VPN) and providing mobile threat prevention to help safeguard smartphones, tablets and laptops against mobile threats, it's easy, unified management makes the entire endpoint security suite easily manageable.
As part of its advanced security capabilities, it offers sandbox inspection, which extracts and analyzes files in a virtual sandbox environment to detect malicious content. Furthermore, it blocks links related to phishing attacks and inappropriate web usage that impedes productivity; and provides advanced malware detection and removal by analyzing malware behaviour.
Check Point Falcon EDR suite provides real-time protection without slowing down systems using signature-free updating technology for real-time protection against new and existing threats. Featuring machine learning malware detection and threat analysis, attack surface reduction and dynamic threat intelligence updates, Check Point Falcon EDR makes integration into any IT environment seamless and effortless.
Encryption
With a robust encryption solution, network endpoints can be protected against cyber threats and breaches, with data stored there also safeguarded from theft or unauthorized access. This thwarts hackers from accessing sensitive company information while ensuring employees can still complete their work outside the office.
Check Point offers more than encryption to protect endpoints, including unified management, advanced threat protection and remote access VPN services. Together these tools allow businesses to manage all their security needs from one convenient console; additionally, Check Point offers advanced telemetry and intelligence capabilities for additional protection.
Check Point's products are designed to protect a diverse set of industries. Their solutions are utilized by organizations of all sizes – public and private cloud services, financial institutions, education providers and government/military agencies. Check Point employs over 3,500 security specialists with access to an elite research and development team.
Check Point's mobile security offering is called Capsule and helps safeguard sensitive business data on employee devices such as smartphones and tablets. Encrypted using a military-grade cipher, multifactor authentication is supported, and email alerts can be customized based on administrators' threshold levels and removable media management from one central place.
Management
Checkpoint Endpoint Security protects remote workforces from today's complex threat landscape, protecting them against ransomware, phishing attacks and drive-by malware. It automatically scans and sanitizes files before being saved to a hard disk, mitigating breach impact through autonomous detection and response capabilities.
With a central management console, security administrators can rapidly deploy software and policy updates across all devices simultaneously while controlling security for all endpoints from one central point. The platform may be hosted on a network gateway or server or managed remotely as SaaS; it aims to offer comprehensive protection across networks, cloud storage services, IoT devices and endpoints.
The highly configurable solution enables users to select from an array of features and add-ons that meet their particular needs. For instance, it can detect and block unauthorized apps and protect against data leakage by encrypting file contents; furthermore, it monitors network traffic to identify suspicious activity in real-time and respond swiftly when attacks begin.
Check Point's cybersecurity solutions are used by businesses and government agencies alike to safeguard their information assets, from firewalls to network security appliances and endpoint security solutions. Their customers span industries including retail, banking and healthcare – based in multiple industries worldwide! Check Point has its global headquarters in Tel Aviv, Israel, with offices worldwide.
Why to Use Xicitium EDR?
Why Use Xcitium EDR? Xcitium Enterprise offers IT teams visibility into the behavior of endpoints connected to their network on-premises or remotely. The security software uses machine learning and behavior analysis technology to detect suspicious activities or threats quickly and patch them quickly in order to reduce cybercrime exploitability.
Xcitium EDR tools offer one of the key advantages for IT teams when it comes to security – their ability to show a threat pathway, showing where an attack began and which part of an endpoint was targeted by attackers is invaluable in quickly detecting vulnerabilities, patching them faster and making networks more secure than before.