Endpoint Detection Response EDR Antivirus can greatly strengthen your cybersecurity posture. Cyberthreat actors have become adept at bypassing traditional antivirus detection by employing fileless malware attacks against vulnerable systems. With endpoint DAR antivirus as part of your defense arsenal, your cybersecurity will remain intact and remain vigilant against emerging cyberthreat actors who seek to bypass traditional protection methods by exploiting fileless viruses to bypass traditional antivirus protection methods.
EDR stands apart from traditional antivirus by monitoring threats in real time and detecting unknown ones through behavior rather than signatures alone. Furthermore, EDR gives your team visibility into file modifications, creations and network connections which may prove invaluable for threat hunting and digital forensics investigations.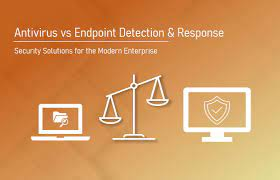 Detecting Advanced Threats
Security teams need full attack visibility when advanced threats are detected, and EDR solutions provide this visibility by collecting and analyzing data to provide a fuller picture and facilitate fast responses, including threat hunting support.
EDR systems use behavior rather than files to detect malicious software and hacking attempts in progress, providing critical protection against advanced threats that often slip past antivirus protection by changing forms and hiding from detection.
Antivirus programs rely on known threat lists to detect infections, but this method alone cannot stop zero-day or other advanced threats that hide in plain view. They may only be able to remove files and block network connections if found; unfortunately, this does not provide adequate defense against all cyber-attacks.
An effective EDR solution employs a lightweight software agent, which continuously scans changes without slowing down or creating other technical issues on endpoints, for quick and accurate detection and alert triage that allows security professionals to quickly prioritize and investigate suspicious events.
Detecting Malware
 Antivirus solutions rely on signatures to identify malware and viruses; EDR tools use anomalous behavior analysis to detect unknown threats that go undetected by traditional antivirus solutions, including fileless attacks, stolen credential attacks and exploiting remote code execution vulnerabilities which might go undetected by traditional antivirus solutions.
EDR makes it easy to gain insight into the impact of malware in its entirety by providing visibility into its lifecycle. By employing sandboxing, EDR allows for safe investigation of infected files within its virtual environment without endangering system security.
Visibility provides essential threat hunting and incident response capabilities essential to protecting against advanced cyberattacks. When malware is identified by EDR solutions, automatic responses such as disconnecting or blocking compromised processes may be implemented to limit its impact and decrease downtime.
Detecting Ransomware
Ransomware attacks are on the rise and targeting companies of every size–not only Fortune 500 businesses, but local governments, schools, and managed service providers (MSPs). Cybercriminal gangs and individual threat actors alike are looking for data they can sell off as ransom.
Antivirus solutions can only detect file-based malware, while modern threats often bypass signature detection via evasion and polymorphic techniques. EDR gives security teams vital capabilities not found in antivirus such as proactive threat hunting, digital forensics and deep visibility into file modifications, process creations and network connections on an endpoint device.
An advanced EDR solution relies on a light software agent installed in the memory of each endpoint to continuously scan changes on it, much faster and with lower resource use than regular antivirus scans. Heuristic scanning detects programs that do not match existing virus or malware signatures as well as processes exhibiting irregular behaviors compared to normal system processes; for instance, deleting or encrypting files or launching multiple processes simultaneously may be indicative of abnormal activity.
Detecting Other Malware
 Endpoint detection and response, or EDR, gathers information continuously from all endpoints on your network — laptops, desktops, mobile devices, servers and IoT (Internet of Things) systems — then analyzes it in real-time in search for known or suspected cyberthreats to protect against attacks.
Modern threats evade traditional antivirus solutions using sophisticated malware infrastructure and techniques such as fileless attacks that operate in memory rather than leaving binaries on the system. An EDR solution should be capable of spotting these and other advanced attacks.
EDR solutions differ from traditional antivirus software by using sensors and behavioral analytics to detect suspicious behaviour, which enables it to find new exploits as they run and detect other harmful activities like stolen credentials that traditional antivirus tools cannot stop. EDR solutions improve incident response by providing much greater attack visibility; including history and context which are particularly useful when conducting forensic investigations.