An effective EDR tool should be easy for IT and security teams to learn and deploy, with features enabling them to identify threats at their source quickly. For example, some tools offer threat pathway visualization capabilities.
OpenEDR is an endpoint detection and response solution favored by companies with complex networks, as it receives praise in independent user reviews and MITRE evaluations.
1. OpenEDR
EDR solutions differ from traditional antivirus software in that they focus more on detecting suspicious activity that might signal an attack and respond promptly by quickly investigating, isolating, and responding to attacks to reduce recovery times and time spent recovering.
By providing context by analyzing data and alerts to identify malicious events, they relieve security teams from alert fatigue while helping analysts reduce incident impact by automating remediation actions based on predefined rules.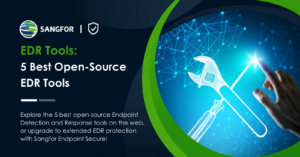 OpenEDR is a free and open-source EDR tool that monitors Windows and file registry activity. With an AngularJS web UI and RESTful JSON API for data retrieval, OpenEDR supports various operating systems and performs detailed forensic analyses on remote endpoints.
2. Crowdstrike Falcon Endpoint Protection
CrowdStrike Falcon provides world-class EDR at an economical cost. Utilizing combined telemetry for breach prevention and detection by recognizing threats that evade conventional antivirus solutions. In addition, CrowdStrike Falcon incorporates NGAV, EDR, network traffic analysis, and user behavioural analytics to provide visibility and protection across the entire attack surface.
Falcon uses a lightweight agent to reduce resource utilization on endpoints, making deployment and usage effortless. It features an accessible dashboard for non-technical people, including advanced detection/malware analysis/remote control/threat-intelligence/etc.
This solution uses third-party threat intelligence feeds to provide the context in real-world examples of attacks, enabling security systems to identify similar patterns more easily.
Furthermore, guided investigation services assist IT or security personnel with reviewing data sets and developing remediation plans.
3. SentinelOne
The behavioral analysis uses machine learning technology to examine thousands or millions of endpoints for any patterns that could indicate malicious users or malware attempting to gain entry to systems, like zero-day attacks or advanced threats that are difficult to detect manually.
This technique may prove especially helpful against advanced attacks that cannot be identified manually.
Some EDR tools feature guided investigation capabilities, which drive IT or security staff through examining threat data. Typical workflows allow them to rank threats by severity and view all events associated with an incident.
Some EDR tools also feature forensics capabilities that enable users to examine live system memory, gather artifacts from suspected endpoints, and aggregate historical and current situational data during an attack. Some support automated remediation activities like disabling compromised accounts or disconnecting compromised processes.
4. VMWare Carbon Black
VMware Carbon Black provides one solution for next-generation antivirus (NGAV), EDR, and incident response features. Utilizing unified telemetry and advanced analytics for detecting malware attacks, VMware Carbon Black reduces threats while speeding the investigation process while offering at-a-glance reporting via dashboards.
Security and IT teams can monitor devices and applications from one central console with this solution, using automated operational reporting to assess system hygiene and enhance patch levels.
Cloud-native solutions provide continuous visibility by recording and storing comprehensive endpoint activity data. This enables security professionals to hunt threats in real time and visualize attack kill chains more clearly. Furthermore, combining threat intelligence from custom and cloud watchlists accelerates investigation time and automated alerts and response processes.
5. Microsoft Defender
The best EDR solutions detect threats quickly and respond efficiently, automating remediation actions to alleviate manual security tasks for overburdened teams while providing insight into how attacks attack their environment.
Microsoft Defender provides an all-in-one platform for endpoint security and detection of threats, with key features including threat hunting and analysis, central logs storage, real-time system and application inventory tracking, malware/exploit detection, and exploit prevention capabilities. Available either as a hardware appliance or software solution.
Advanced search capabilities allow users to locate suspicious activities and forensic artifacts quickly and efficiently from infected endpoints and accounts quickly and efficiently.
Furthermore, this tool offers a centralized view of alerts with a correlation engine for quick responses; additionally, it features Arpia, which enriches threat intelligence databases while conducting similarity searches against malware families.