Modern EDR solutions should include features to detect and block malware before it enters networks, including signature matching, machine learning static analysis and sandboxing – running binaries in controlled environments to inspect for potentially harmful characteristics or malicious attributes.
No doubt this approach works well, yet advanced threats often evade detection, and therefore, EDR tools are essential in providing detection, investigation and response functions.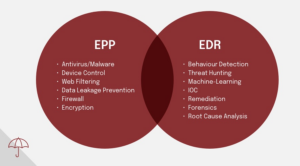 What is EDR?
EDR solutions provide endpoint protection by monitoring, detecting, and responding to cyber-attacks by providing another layer of defense – such as firewalls and antivirus solutions – against more complex attacks.
Traditional antivirus and firewall solutions can detect known threats; EDR can assist in identifying unknown attacks by employing machine learning or artificial intelligence (AI). It also offers faster incident response by isolating threats, responding automatically, and immediately notifying IT teams or security administrators of an incident.
Once a threat has been detected and contained, an EDR solution can further investigate why it bypassed security measures, identify potential weaknesses that need addressing to stop similar attacks in the future and provide vital insight about any attacks that occurred within your network. This step is essential in mitigating risks by providing essential data about them.
Choosing between EPP and EDR platforms may not be easy, but both are integral to an effective security posture. Ideally, find an integrated EDR/EPP platform offering comprehensive protection from today's threats.
What is EPP?
EPP solutions are designed to prevent threats at their source from entering an organization's endpoints, including workstations, servers, cloud machine instances and remote employees working from home.
The top EPP solutions provide intelligent detection and visibility. Furthermore, experienced IT staff can quickly filter false positives to find actionable data – cutting down time spent updating, managing, and protecting endpoints.
Unfortunately, no EPP solution can prevent every threat from entering a network, as malware has evolved to be very intelligent and can change into something even more dangerous at any moment. Furthermore, some attacks, like advanced persistent threats (APTs) and fileless malware, cannot be detected using traditional anti-malware tools that rely on signatures alone.
When selecting an EPP solution, look for features like sandboxing and network anomaly analysis to address advanced threats. This will allow your team to inspect suspicious files without harming your environment and understand how they entered. A per-incident review helps your team better comprehend the threat landscape while increasing cybersecurity strategy – not to mention finding tools to tackle even advanced attacks that threaten future breaches.
What is the difference between EDR and EPP?
There are often misconceptions surrounding EDR and EPP. Some organizations believe they must choose one over the other; in reality, both components are necessary to provide a complete cybersecurity solution; EPP protects systems proactively against known threats, while EDR helps detect and respond to attacks that bypass prevention efforts.
EDR helps detect malicious activity that passes the first line of defense by monitoring endpoint behavior for unusual activities or anomalies, using threat intelligence and research sources such as MITRE ATT&CK to provide actionable insight into suspicious behaviors. Advanced EDR solutions also use behavioral analytics and machine learning techniques to understand an organization's baseline behaviors; then compare this data against intelligence sources to detect and interpret findings.
As with any security solution, no EPP solution can guarantee 100% accuracy in stopping all threats. In such a scenario, an EDR solution should kill processes, quarantine files, and isolate endpoints to prevent an attack from spreading further through your network.
CrowdStrike Falcon Complete offers an enhanced EDR solution, taking a more holistic approach to detection and response by consolidating traditional security silos into one unified platform for effective detection and mitigation against ever-evolving threats. This provides a comprehensive view of any threat activity for more effective detection and mitigating measures against an ever-shifting threat landscape.