A technique called endpoint detection and response (EDR) helps organizations in identifying and counteracting threats to their data and system assets. EDR has the ability to identify harmful assaults, stop them, safeguard vital systems, and look into cyberattacks. Organizations must constantly scan their networks for threats as the world becomes more electronic. EDR is crucial because it makes it possible to spot problems and take action before they snowball into major crises. This article will look at EDR and the ways it can keep your company safe online.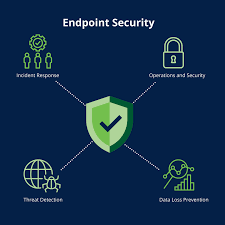 What is Endpoint Detection and Response?
Endpoint detection and response (EDR) is a process that helps protect organizational networks from malicious activity.EDR recognizes indications of unusual behaviour and takes the necessary precautions to safeguard the network, such as blocking malicious traffic, warning administrators, or notifying users.
EDR can stop data breaches, identify risks before they become destructive, and lessen the impact of attacks. Additionally, it is vital in ensuring user access to vital programmes and services.
Malicious behaviour on a network can be found using a variety of sensors:
The network's perimeter is protected by Network Intrusion Sensors (NIS), which are tools that look for unwanted activities including scans, probes, and port scans. Cyberattack signatures can be found by NIS as well.
Software instruments called intrusion detection systems (IDS) watch network traffic for known attack patterns. IDSs are able to stop harmful traffic before it gets to the PCs of your users.
System files are monitored by host-based intrusion prevention systems (HIDS) for indications of illegal modifications. Malicious traffic can be stopped by HIDSs even before it reaches the machines of your users.
Application Security Sensors (ASSETS) watch for signs of suspicious activity across different applications running on your network. ASSETS help you identify vulnerabilities in software applications and ensure they are patched before hackers exploit them.
How do Endpoint Detection and Response Work?
EDR, or endpoint detection and response, is the quick and efficient detection and reaction to intrusions. Servers, workstations, mobile devices, and apps can all be used with EDR on both internal and external systems.
In an EDR procedure, determining which systems are attackable is the initial step. The system must next be watched for indications of intrusion. When an intrusion is discovered, the system needs to react swiftly.
Network activity monitoring software is one common EDR option. This programme is able to identify suspicious activities, such as unauthorized access or irregular traffic patterns. Sensors that look for unusual temperatures, noise levels, or other physical signs of an attack can also be used to monitor networks.
Why Do We Need Endpoint Detection and Response?
EDR can help mitigate the impact of attacks by identifying and responding to malicious activity directed against these devices.
By deploying an attack against an endpoint device, an attacker can gain access to sensitive information or strategies. In addition, endpoint devices often serve as entry points for malware infections. By detecting malicious activity related to these devices and thwarting attacks before they occur, firms can protect themselves from exposure to risk and potential damage.
There are a variety of approaches one can use when putting EDR into practice. TIFs, which are databases that collect information about known harmful samples, can be used to detect newly emerging threats. Companies can detect specific malware or suspicious behaviour on endpoints using heuristics-based detection. Sandboxing technologies in EDR helps in the segregation of malware-infected devices from the rest of the network so that they cannot spread the infection further.
It is vital to have a thorough plan that considers all components of the threat environment to execute EDR successfully. This is true regardless of the approach utilized to carry out EDR. Components of the system that are not adequately protected against sophisticated attacks and vulnerabilities have the potential to cause extensive damage and exposure if left unchecked.
What are the Benefits of using Endpoint Detection and Response?
Endpoint detection and response (EDR) techniques can be utilized to detect and prevent harmful behavior, and EDR also enables speedier detection of ransomware, phishing, and other forms of malware. There are two main benefits of EDR. Automation in the detection and response process will help organizations protect their data and respond more rapidly to potential dangers.
Some of the benefits of using Endpoint Detection and Response include the following:
Faster identification and response to attacks thanks to automated detection, which helps enterprises avoid data loss or damage.
Improved security: Organisations can improve the security of their data by detecting harmful behaviour through automation of the detection process before it causes any harm.
Efficiency gain: By eliminating the need for manual analysis, the automated detection procedure can save time and money.
Endpoint Detection and Response Security Capabilities
A security feature called endpoint detection and response (EDR) guards against malicious behaviour on systems and data. When EDR discovers unfamiliar or harmful files, processes, or apps on an endpoint device, it reacts by eradicating or incapacitating the danger.
EDR has two main applications: proactive detection and response (PDR) stops harmful activity before it starts, and automated response (AR) reacts to threats as soon as they are identified. PDR is often used to monitor systems over time, whereas AR is more responsive to dangers that arise right away.
Although there are many distinct EDR options, they all have some common traits. They consist of:
Detection tools for unidentified or malicious files, processes, or programmes
Action capabilities that remove or disable the threat
Reporting capabilities that provide detailed information about detected threats
Management tools that allow administrators to manage EDR policies and settings
Conclusion – Endpoint Detection and Response
Endpoint detection and response (EDR) is a critical security technology that protects data at rest, in transit, and during operations. By identifying potential threats before they can impact your organization's data, EDR can help to prevent cyberattacks and safeguard your information. With the right tools in place, you can detect and respond to attacks quickly and effectively, helping to keep your data safe from harm.