McAfee EDR provides continuous monitoring and collection of endpoint activity data, providing the visibility and context needed to detect and respond to threats. It automates alert prioritization so security teams can focus on the most pertinent alerts.
With its intuitive data visualization capabilities, this application enables analysts to gain a faster and greater understanding of security incidents. Security teams can efficiently track even sophisticated attacks quickly while promptly uncovering incidents for triaging, validating, and prioritization purposes.
Detect and Respond to Cyberattacks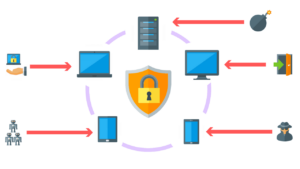 Endpoint detection and response (EDR) tools protect organizations from cyber attacks. If implemented effectively, EDR tools can proactively detect new attacks before they cause data breaches.
McAfee edr is a cloud-based solution that can protect your company against cyberattacks by detecting malware and other threats and providing threat intelligence on the attacker and his activities during an attack.
This system continuously monitors your network to detect suspicious activities – such as malware, ransomware, phishing attempts, or botnets – across your entire infrastructure. It also looks for suspicious files on any endpoint that might pose threats, such as ransomware.
This solution utilizes behavioral approaches to search for indicators of compromise. It can assist in preventing cyberattacks by monitoring endpoint behavior and notifying users if suspicious activity is identified.
Prevent Data Loss
McAfee edr provides your business with multiple features to protect its data from accidental or malicious loss, such as blocking transfers of sensitive information to unintended recipients, monitoring file-sharing activities and audit trails, and offering data access controls.
McAfee MVISION EDR uses cloud deployment, analytics, and AI-guided investigations to reduce analyst workload and facilitate faster response times. Alert prioritization and guided investigation allow security teams to view only relevant alerts.
This system also provides visibility into endpoint threats, helping security analysts monitor endpoint activity and detect suspicious behaviors to respond to incidents quickly.
McAfee DLP Endpoint provides unparalleled protection against theft and disclosure of confidential data on removable storage devices, networks, applications, and files on personal devices. It even works across systems!
Reduce the Time and Cost of Incident Response
Endpoint detection and response (EDR) tools enable fast response times to cyberattacks that minimize damage, saving time and money by decreasing security incidents that arise. By taking a preventative approach, EDR tools may also save both time and money by decreasing incidents that require action to resolve.
McAfee offers several EDR solutions that enable customers to detect, investigate and respond quickly to security incidents affecting endpoints. These include MVISION EDR and MVISION ePO.
MVISION EDR includes several features to assist security analysts in conducting investigations faster, including alert prioritization, guided investigation, and data visualization.
McAfee EDR quickly and thoroughly alerts security teams of threats and provides context from multiple sources, enabling analysts to comprehend its nature and potential repercussions for networks easily.
CrowdStrike XDR employs behavioral analytics to detect malicious activity on endpoints by considering events as part of an overall sequence. It combines comprehensive visibility with a straightforward query language, allowing analysts to track threats and investigate the root causes more quickly and thoroughly. Furthermore, it retains 365 days worth of log data for further examination.
Automate Security Response
EDR systems can assist security personnel with responding to an incident by automatically recognizing and responding to threats or preventing them from occurring altogether. Some EDR systems include analysis and forensics tools which enable threat hunters to examine data from multiple sources for clues to an attacker's activity.
An effective EDR system can collect and examine endpoint data to detect indicators of compromise, including file hashes, C&C domains, IP addresses, and similar features.
EDR systems use this data to assess whether an attacker is trying to gain entry to your network or damage its infrastructure. They respond by blocking access for specific users or sending alerts directly to staff members. Once detected, EDR systems may take automated actions such as logging off end users or alerting staff members immediately.
McAfee edr is an advanced threat detection and response solution that enables organizations to detect and respond to potential threats quickly. It combines continuous data collection, analytics for suspicious behavior, and AI-guided investigations that gather, summarize and visualize evidence.