An EDR Solutions, or endpoint detection and response solution, is a type of security software that helps protect businesses against cyber threats. EDR Solutions work by monitoring a business's network for suspicious activity, and then responding to any threats that are detected.
In this blog post, we have described how EDR Solutions can safeguard your organization against cyber threats and provide security to the sensitive data.
What is an EDR Solutions?
EDR Solutions is the tool used to protect businesses of all sizes from emerging cyber threats, including malware, phishing attacks, and data breaches. In most of the cases, EDR Solutions can help businesses by preventing costly damage by cyber threats.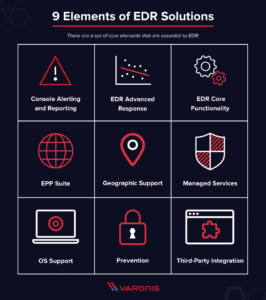 There are different EDR Solutions available in the market, so choose the right one for your business to keep away from threats. While choosing EDR for your business, always have your business needs in mind, and look for a solution that offers top level protection and easy-to-use features.
How do EDR Solutions work?
EDR Solutions work by monitoring and analyzing your network traffic for signs of malicious activity. If a threat is detected, the EDR Solutions will take action to neutralize it. This may include quarantining the affected device, blocking the malicious traffic, or even taking the entire system offline if necessary.
The benefits of using an EDR Solutions
Endpoint detection and response (EDR) solutions are a vital part of any comprehensive cybersecurity strategy. Here are the top benefits of using EDR Solutions:
1. Increased visibility into endpoint activity: EDR Solutions provide detailed visibility into the activity on each endpoint, making it easier to identify suspicious activity and potential threats.
2. Faster detection and response to threats: EDR Solutions use artificial intelligence and machine learning to detect anomalies in endpoint activity, so you can respond to threats more quickly.
3. Improved security posture: By proactively detecting and responding to threats, EDR Solutions help improve your overall security posture and make it more difficult for attackers to penetrate your defenses.
4. Reduced costs: By preventing successful attacks, EDR Solutions can help reduce the costs associated with cleanup and recovery from a breach.
5. Greater peace of mind: Knowing that you have a robust EDR Solutions in place can give you greater peace of mind knowing that your business is better protected against cyber threats.
The top Four EDR Solutions on the market
1. Open EDR: OpenEDR is an open-source solution by Xcitium. OpenEDR is a platform that provides real-time protections against emerging threats.
2. CrowdStrike Falcon: Falcon is a cloud-based EDR Solutions that provides real-time visibility and protection against threats.
3. Carbon Black CB Defense: CB Defense is an on-premises EDR Solutions that offers real-time detection and response, as well as Forensics & IR.
4. CylancePROTECT: CylancePROTECT is an AI-powered EDR Solutions that offers real-time protection against known and unknown threats.
How to choose an EDR Solutions for your business?
There are few things to consider while choosing an EDR Solutions for your business. Some quick tips on choosing the right EDR Solutions for your business are listed below:
1. Make sure the EDR Solutions offers comprehensive coverage.
The EDR Solutions you choose should offer comprehensive coverage against all types of cyber threats, including malware, phishing, and ransomware attacks.
2. Choose an EDR Solutions that offers real-time protection.
You should be able to get real-time defense against every kind of cyberthreat with the EDR Solutions you select. You may be confident that your company is always safeguarded against the most recent threats in this way.
3. Make sure the EDR Solutions is easy to use and manage.
You should be able to manage and use the EDR Solutions you chose with ease. It should also have an intuitive user interface so that you can quickly check on its functioning and make adjustments as necessary.
Conclusion
Businesses must implement the required security measures to guard against cyber risks as they continue to embrace digital transformation. EDR Solutions are a powerful tool for detecting, investigating, and remediating these threats before they can cause significant damage. You may ensure the security of your company's data and operations by implementing an EDR Solutions into your IT infrastructure. This will enable you to react quickly and efficiently to any suspicious behaviour occurring within your network.