Endpoint detection and response (EDR) is a security solution that gives security teams visibility into attacks that have bypassed endpoint protection platforms and antivirus, and provides remote control capabilities to manage and contain them.
EDR solutions collect endpoint telemetry data and send it back to a central server for analysis, so as to detect suspicious activity and take appropriate actions either automatically or manually.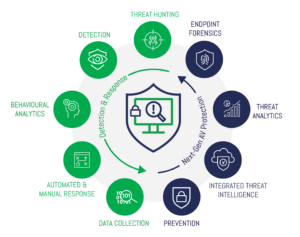 Detecting Threats
Managed EDR (XDR: extended detection and response) integrates network, cloud and endpoint data for increased security visibility. Instead of relying solely on siloed security tools, such as firewalls or antivirus scanners, Managed EDR employs heuristics, analytics and automation to help investigators spot threats faster, thus decreasing alerts that require human interaction while increasing productivity by eliminating redundant manual work.
Managed EDR differs from traditional antivirus and firewall systems by continuously monitoring endpoint devices for abnormal or malicious activity – this allows security teams to quickly isolate threats before attacks spread across networks.
Managed EDR solutions also offer detailed insight into an attack's lifecycle by keeping logs and providing technical data that can help analyze them to detect patterns that could indicate an intrusion such as file deletions or changes to system settings.
EDR solutions may also be configured to automatically send logs to a central server for analysis or enable security professionals to remotely access an affected device and execute actions like script execution or host restore (search and destroy). Many managed EDR products also integrate with security orchestration, automation and response (SOAR) tools for automated playbooks and extended threat intelligence to multiple systems – ClearNetwork offers managed CrowdStrike EDR as a Gartner-leading technology trusted by over 20 customers with 20+ years of security expertise.
Incident Response
One of the primary steps in incident response is assessing and responding to incidents effectively, with the goal of minimizing damage while quickly returning systems back to their usual operations.
To achieve this, it is necessary to understand what transpired, why it occurred, and its effect on organizational operations. This step involves reviewing logs, audit trails, error reports, and firewall reports as well as evaluating the impact on internal and external customers, while also deciding the most effective means of communicating about the incident.
Managed EDR solutions that combine threat detection with 24/7 monitoring and response capabilities can help businesses address threats more swiftly, mitigating attacks more effectively by quickly detecting compromised endpoints, restricting malware spread, and offering advice on remediation measures.
Managed EDR solutions also allow users to detect advanced threats like zero-day exploits. As these vulnerabilities have no patch available, the only effective solution for their prevention is cloud-based EDR with cross-endpoint correlation, infected system isolation, and response capabilities like alert remediation, guided remediation and remote malware removal capabilities. With managed EDR's ability to identify attackers using tactics techniques and procedures (TTPs), managed EDR allows you to stop security breaches before they happen and protect against cyberattacks that evade traditional prevention controls while also being able to identify attackers so you can hunt them down before any harm comes their way.
Prevention
Modern EDR technologies utilize artificial intelligence to prevent malware attacks before they start and detect suspicious behavior that may signal potential threats. They also send technical data for further analysis so security professionals can monitor network health overall and detect specific threats when they arise.
Many cybersecurity solutions flag suspicious activity and then leave it up to IT teams to triage it and decide on an action plan. Managed EDR adds humans with contextual awareness into the mix, offering guided remediation services and shortening response times from IT teams.
EDR tools that store data for future analysis allow analysts to review past attacks or those that went undetected, consolidate alerts into one incident and enable proactive threat hunting to detect hidden attack vectors hiding within your environment.
Even if you use advanced endpoint protection solutions, adversaries with sufficient motivation, time, and resources may still find ways to breach your defenses. That's why prevention must be at the core of any managed cybersecurity strategy – by identifying, containing, and remediating threats before they become breaches, you can reduce disruption of business operations, theft of sensitive information, revenue losses, or customer trust issues that result.
Remediation
Maintaining network security can be challenging when cyber attackers change tactics constantly, but if a threat makes its way past your security perimeter, EDR provides invaluable help in containment and removal before further damage occurs.
EDR solutions employ artificial intelligence to detect an array of threats, from the latest malware and attacks that don't yet have signature databases to network activity, device health monitoring, and system configuration data analysis – including abnormalities or suspicious behavior that is then sent as alerts and technical data to your team for further investigation, as well as remotely access a compromised endpoint so it can be isolated from further network access.
An effectively managed EDR solution can assist in recovering from threats by cleaning the registry, erasing files, ejecting intruders and disabling persistence mechanisms. If necessary, they may even reimage affected systems to restore them back to an earlier known good state.