Endpoint detection and response (EDR) is a cybersecurity solution that monitors endpoint data to detect threats, providing security teams with insights into what happened and how best to respond. EDR offers more than monitoring capabilities – it also gathers and investigates cyberattacks thoroughly, giving security teams insight into why something went wrong as well as insights into how best to deal with future attacks.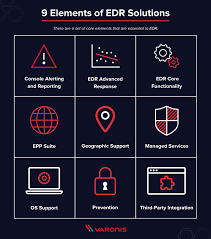 EDR systems analyze and generate alerts on suspicious activity across laptops, desktops, mobile devices, servers and cloud workloads. They collect telemetry to augment that data with contextual details.
What is EDR in Cyber Security Endpoint Detection and Response
Endpoint detection and response (EDR) security solutions are an integral component of any organization's cyber defense strategy, helping identify threats that traditional network-based solutions like antimalware (AV) may miss.
While antivirus (AV) products have a good track record in stopping most malware, modern attackers have become more sophisticated and use techniques to avoid detection. Advanced threat actors frequently employ fileless malware, malicious scripts, and poisoned attachments in an effort to bypass security systems.
As such, many organizations find it challenging to effectively contain and respond to attacks when prevention fails and an attack persists for days, weeks, or months.
EDR solutions provide continuous visibility into endpoints, identifying and responding to threats in real-time. Furthermore, these tools can prevent future attacks by stopping attacks at their source; additionally they can provide valuable insight into what happened during and after attacks.
What is EDR in Cyber Security Network Monitoring
EDR tools monitor networks and notify security teams of suspicious activity. These systems gather data on employee workstations or laptops, servers, IoT devices, and cloud systems – in order to detect threats before they cause harm to a network.
EDR systems aggregate endpoint telemetry and combine it with contextual information derived from events, then analyze it for signs of malware or other security concerns. This allows security operations analysts to rapidly uncover issues, which in turn reduce response times while incident response teams eliminate threats before they cause harm.
EDR tools often employ machine learning and AI techniques to detect cyberthreats more accurately in real time. By mining this data for patterns that could indicate active threats, or mapping observed suspicious behaviors to the MITRE ATT&CK framework, these EDR tools enable analysts to detect subtler changes more effectively.
What is EDR in Cyber Security Incident Response+
Incident response is the process of mitigating damage caused by attacks and helping restore normal operations, by identifying, containing and eliminating attacks as quickly as possible while recovering data as quickly as possible.
Security Intelligence (SI) is a key component of cyber security and requires a team with extensive experience detecting, analyzing and mitigating threats.
Preparation involves developing policies and procedures, deploying tools, and providing training. An incident response team should also set rules of engagement prior to beginning their response efforts.
Detection employs IT monitoring systems to identify threats. It may include antivirus software, network intrusion detection systems and security incident and event management tools (SIEM).
Containment involves temporary fixes to ensure systems continue operating, along with clean and patched versions of resources for recovery. It aims to stop attackers in their tracks and limit further damage while eliminating malware.
What is EDR in Cyber Security Analysis
Analysis refers to the practice of extracting insights from raw endpoint data to provide human users with actionable decisions regarding security. Analysis is one of the cornerstones of EDR, helping organizations detect and respond quickly to cyber threats before they cause damage.
Not only can analysis help organizations detect and contain attacks, it also allows them to understand how a threat gained access. This enables IT teams to identify any weak points that could be exploited by future attacks.
Analysis combines machine learning and artificial intelligence to identify patterns in events and processes which might indicate an active threat, and highlight remediation techniques which can prevent further intrusions.