EDR provides endpoint protection by offering visibility and threat prevention for specific devices. At the same time, XDR takes a broader view by consolidating security data streams from email accounts, endpoints, servers, physical and virtual network devices and cloud services into one consolidated stream.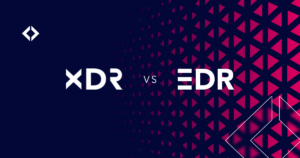 XDR also gathers non-endpoint telemetry and automates many of the manual functions required by EDR, saving time and resources by consolidating cybersecurity efforts into one centralized approach. Read on to understand this comprehensive cybersecurity solution that could save both.
What is XDR?
XDR platforms use pattern recognition, machine learning and natural language analysis to detect threats and risks across multiple data streams. They sift through data from servers, applications, cloud services and physical or virtual network devices to provide context-rich alerts. While EDR solutions mainly utilize endpoint data sources as their detection source, XDR solutions also use data from DNS firewalls as sources, providing analytics services and alert triage, investigation and response management – something EDR cannot do.
XDR is an essential element of a comprehensive threat protection strategy. When implemented on top of a solid zero-trust infrastructure, XDR allows organizations to meet the challenges of the modern cybersecurity landscape and reduce data breach costs significantly. By improving MTTD/MTTR rates and ensuring threats can be detected before spreading further, XDR helps organizations meet modern cybersecurity head-on.
What is EDR?
XDR extends security visibility to encompass threats that attack across an enterprise's digital environment – not only endpoints. It collects and correlates data from multiple layers, such as email servers, network traffic analysis tools, identity services, cloud workloads and virtual containers, to detect advanced threats that often operate between security silos.
Threats have become increasingly stealthy and difficult to detect using traditional SIEM solutions due to the vast volume of data they produce. With advanced AI/ML capabilities XDR can ingest, normalize, analyze and detect these threats continuously across multiple sources from multiple sources using internal intelligence combined with external intelligence data – stopping attacks before more damage can occur.
XDR detects attacks and contains them by using continuous file analysis and threat intelligence to contain threats before they can penetrate network segments and breach them. This reduces the alert management load and the time needed to identify and prioritize alerts.
This is what sets XDR apart from EDR and other point solution security products: its ability to break down layer-specific security approaches and give overstretched SOC teams the unified visibility they require to identify threats quickly, shut them down, and remediate quickly – and increase both their Mean Time to Damage/Repair rates as well as free up time for more productive work.
What is MDR?
MDR (Managed Data Response) is a managed service offered by some security providers that combines EDR and XDR technologies alongside additional technologies like SIEM, user and entity behaviour analytics (UEBA), firewalls and 24/7 monitoring as well as collaborative investigation and remediation with your in-house cybersecurity team.
An MDR solution aims to detect and contain malware attacks that evade detection by SOC, SIEM for MSSP solutions. Furthermore, MDR solutions aim to decrease dwell time – the length of time attackers remain undetected in your network – by providing threat hunting, alert management capabilities, and human analysis and investigation capabilities that complement those provided by automated solutions.
When selecting an MDR provider, look for one with an open platform that enables using existing tools without vendor lock-in, allows data search and integration, helps prevent alert fatigue by prioritizing important threats, and facilitates incident response through centralized workflow management.
No matter which tool or service you select, it must meet your organization's and IT infrastructure's unique requirements. Your CISO or another cybersecurity leader should participate in the evaluation process to ensure that any selected solution will effectively address those unique requirements while not duplicating functions available within existing toolsets.
What is Open XDR?
Open XDR is a unified threat detection and response platform with a vendor-agnostic approach to extended detection and response. It gives security teams access to best-of-breed security solutions without fear of vendor lock-in or increased workload by giving them a choice over which tools work best in their environment.
Open XDR is a unique security platform, consolidating input from disparate security tools such as EDR and SIEM into one consolidated view. It then normalizes and correlates this data, normalizing alert volume while simultaneously identifying genuine indicators of compromise (IOCs) and automating responses – greatly increasing security team efficiency while decreasing missed threats/incidents.
Open XDR is different because it doesn't require additional tools to operate within your environment; instead, it integrates seamlessly with existing security solutions to increase visibility and improve detection/response capabilities.
Some vendors build their XDR solutions on top of existing security tools such as EDR or SIEM, providing an effective means to expand your technology stack while meeting organizational requirements. Unfortunately, this approach may lead to vendor lock-in and hinder you from using tools you prefer and are familiar with; additionally, this approach may not provide visibility and protection gaps as relevant telemetry may not be accessible from one provider.