XDR is an acronym for cybersecurity technology that provides visibility across an organization's endpoints, network, cloud and email. In most cases, it examines collected data and notifies security experts via unified alerts.
XDR solutions normalize, centralize and correlate data from multiple sources to break down security silos and provide complete visibility for faster detection. A detailed timeline and path of attacks across email, endpoints, servers, and cloud workloads are shown by them using automated root cause analysis.
Understanding of XDR and EDR
Extended detection and response (XDR) is an approach that unifies information from multiple security tools to expedite threat detection, investigation and response. Compared to a single-point-of-view EDR system, XDR offers more visibility across the entire enterprise – from endpoints and servers to cloud workloads and networks – for faster, more precise security responses.
The critical distinction between XDR and SIEM is that XDR utilizes artificial intelligence (AI) to normalize and enrich data, allowing security analysts to detect actual attack tactics, techniques, and procedures (TTPs). While SIEM stores alerts in raw form from logs and event sources, XDR collects deeper, richer data before normalizing it for storage.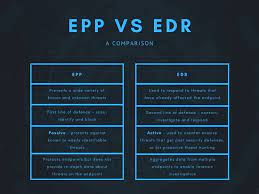 Native XDR is often chosen by larger organizations with a dedicated Security Operations Center (SOC). However, it can be challenging to implement and manage if you already have solutions from other vendors that you don't want to lose.
XDR Vs EDR Features
XDR and EDR provide security teams with features that help them stay ahead of emerging threats. Unlike traditional security systems like antivirus, which focus on endpoint protection, XDR enables a comprehensive range of threat detection across email, servers, cloud workloads, and networks.
SIEM technologies, which can overwhelm security professionals with alerts, are far less efficient. XDR automates correlation and response so signals don't need to be manually processed, saving teams time and resources while increasing their capacity for fast responses.
XDR seeks to address the shortcomings of SIEM technologies and other security solutions by offering a more holistic approach to detection and response. It also gives analysts an accurate timeline and path towards threats, enabling them to assess risk more efficiently and take appropriate action.
What Is the Difference Between XDR Vs EDR?
XDR (extended detection and response) is an automated cybersecurity solution that offers cross-layered data collection, analysis, and response. These tools scan across email, endpoints, servers, networks, cloud services, and apps to detect threats and notify security teams when issues arise.
Security teams are increasingly challenged with sophisticated techniques attackers use to avoid detection, moving from layer to layer in their quest for system compromise. With limited resources, security teams need an efficient way to quickly recognize and respond to these threats as they traverse the network.
XDR integrates this approach with EDR, MDR and elements of SIEM to provide enhanced visibility into threats across the entire business. It also automates correlation and response by connecting with security systems like CTI for increased contextualization and anticipation in threat detection.
What's Better: XDR Vs EDR
XDR, short for extended detection and response, is an advanced cybersecurity solution that enhances data protection across networks, applications, programs, and the cloud. It helps organizations detect and respond to complex threats and attacks that could cause significant harm.
XDR platforms use cutting-edge technology to monitor and analyze the attack kill chain. They also offer forensics and root cause analysis capabilities to expedite investigations.
XDR is ideal for organizations seeking to protect against cyberattacks and unauthorized access. Its comprehensive approach gives them complete visibility into their environment, enabling security teams to mitigate threats effectively and reinforce existing policies.
The strengths and benefits of XDR Vs EDR
XDR is a cybersecurity solution that collects and correlates data from different security layers, such as endpoints, servers, clouds and networks. This helps break down silos and gives complete visibility with faster threat detection.
XDR not only reduces false positives and boosts response time, but it also helps analysts stay focused on high-impact alerts. This saves them time from dealing with irrelevant or excessive notifications, boosting productivity levels.
XDR provides more context than EDR, offering deeper data visibility and analysis across multiple streams. This means you can gain a comprehensive insight into how a threat affects your network, making it easier to stop it.
See Also: